Staff:
Name: Aria Blarg
Jobs: CEO, Founder
Stream: Ariablarg+Friends
Favorite Games: Harvest Moon 64, Okage: Shadow King, Dark Cloud, Day of the Tentacle
About me: I've been playing games since I can remember, with a nerdy older brother to show me the ropes as well as encouraging parents. My parents at first were worried about me playing games at a young age, but soon found that the more I played games, my reading comprehension grew stronger in school.
Even though I love video games, I love living my life especially! Going out, spending times with friends and family, exercising, drawing, and studying to go to nursing school someday. But you can't forget the video games!!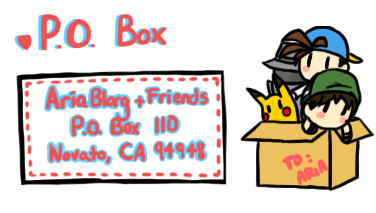 ---
Name: Kashi Takashi
Jobs: Technical Adviser, Animator, and Webmaster
Stream: Takashi's Chill Cast
Favorite Games: Deus Ex: Human Revolution, Sims 3, Gran Turismo 5
About me: Coming from odd set of job descriptions; Photographer, Cinema-photographer, Professional Broadcaster(in real life), DJ, and Computer Tech I can safely say I am an odd ball of wonders
. I'm not into video games as much as I did when I was younger but I do hold an interest in broadcasting but I don't have powerful enough computers to handle my quality of standards T.T.  I do most of the background maintenance here on the site, I usually wont pop up on the site post wise unless I make a technical post like if the site crashed and I restored it or just some general announcements.
---
Name: RaptorJesus
Jobs:Business Lead, Marketing
Stream: RaptorJesus Gone Wild
Favorite Games: Animal Crossings, Gears of War Series, Tropico, Hat Fortress 2
About me: Keeping myself busy by working, college, and going to San José Sharks games. I occasionally stream and manage the forums/am a chat mod. As a kid I'd go to my friend's house and play SNES for hours, eventually got myself a N64. I've run communities with 1000+ online and enjoy working with gaming communities.Big fan of alt. rock /indie music. Studying to get my degree in Business Administration.
---

Name: Noka
Jobs: Fanart
Stream: Jelly Gaming
Favorite Games: Pikmin, Klonoa, Okage, Harvest Moon, Kirby, Twinbee (I have way too many)
About me: My first console was the SNES, I grew up a Nintendo kid. I've been watching my big bro playing those games for as long as I can remember and I love it! Not to mention during my life I've become quite the anime fan too. Anime, video games, and drawing are three essential parts to my life and I don't think I'd be the person I am today if I hadn't had those things. People say I do a lot of funny and adorable things but.. personally I don't see it. Being self-critical is just a built-in feature for me, haha~
---
Bloggers:

Name: Tagros
Job: Blogging Department
Stream: Tagros Tries His Hand At…
Favorite Games: Shadow of the Colossus, Civilization series (especially 5), Animal Crossing
About Me: My name is Tagros and I…am a writer. As of this recording, I am about 1 week away from graduating college, but after that, I plan on getting into addiction treatment and mediation through the means of outpatient clinics. I like writing quite a bit, and outside of that I enjoy trying to make people laugh through the use of deadpan comedy. As far as music goes, I will really listen to anything, and I hope to make friends with as many of you as I can!
---
Name: Bill Zoeker
Job: Blogger (Blarger?) and Communications Manager
Stream: Rad Show Get There
Favorite Games: Final Fantasy VII, EarthBound, Halo
About Me: I've been working in livestreaming since 2011, on and off air. I like thinking about what videogames mean beyond a trivial method of killing time, and who we are as people who play them. Totally impractical theorization is my bread and butter. I also use big words sometimes, so… sorry.